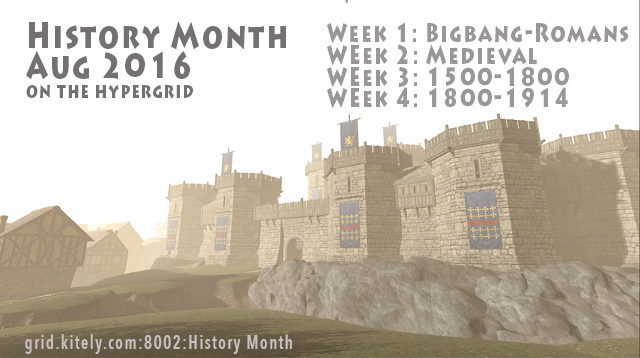 What is History Month?
Residents of Kitely are organizing History Month for the month of August. The event is designed to highlight the many historically-inspired builds in Kitely and to encourage more of them.  At the History Month Hub, visitors will receive a HUD and landmarks to allow them to visit the history-related worlds around the grid. Please note that the address of the History Month region has changed to grid.kitely.com:8002:History Hub
Time Periods
History month will focus on a different historic era each week in August:
Week 1: Big bang to Greeks & Romans
Week 2: Medieval 500-1500
Week 3: 1500-1800
Week 4: 1800 to 1914
Events
Historic places on Kitely (partial list)

Week 1: 5000 BCE to 500 CE

Necropolis
First City
Avebury
Palmyra Temple
Celticworld
Arabianworld
Week 2: Medieval 500-1500
Celtic World
De Landria Rising
Dunguaire Castle
Medieval World
Panagia Paramythea
Vikingworld
World's End
Week 3: 1500-1800
21strom Bohemia Story
Antiquity
Hosoi Mura – Edo Honshu Japan
Kingdom of Florin
Micrographia
Pirate's Haven
Westworld
Week 4: 1800 to 1914
Sam
SevenStreets
Westworld
Val Sancy
More to be announced.
Other Hosts:
Babble Arts Center (literary events)
Cookie II and New Media Arts
Creative Collaborators
Contact Serene Jewell inworld or at serenejewell@gmail.com to add your Kitely world to the list.
If you would like to participate in history month but don't have land in Kitely, there are some plots available. Just email Serene.