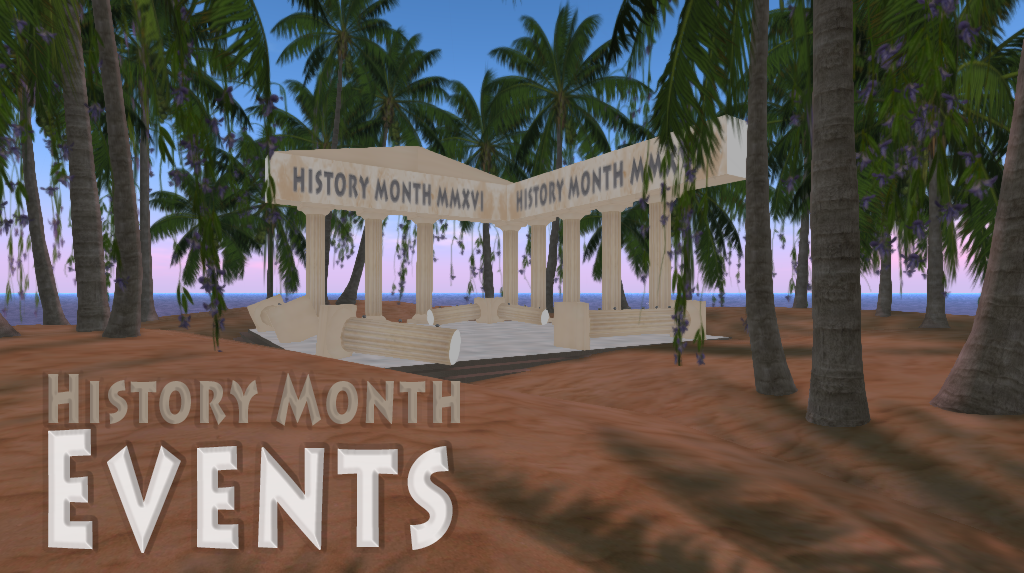 The irrepressible Freda Frostbite is organizing a series of events to correspond with each week's theme during History Month.
This list is subject to change. All times are Pacific Standard time.
Events
Aug 6 — 4:00 PM, Aliens, Eden and Eridu: A History of One Civilization. (First City Eridu)
Aug 7 — 9 AM, Ghaelen Dlareh Speaks About Sacred Music: Late Ancient to High Medieval (Cookie II)
Aug 7 — 10:30 AM, Ravyn Reads From Canterbury Tales (RISA IV)
Aug 7 — 12:00 PM, Several Millenia of Poetry In Under An Hour (History Month Sim)
Aug 14 — 12 Noon, Kitely History Fest: Wald Schridde, LIVE MUSIC (History Month World)
Aug 14 — 10:30 AM, Carl Theodor Dreyer: The Passion of Joan of Arc (1928), silent film. Please have Quicktime installed on your computer and media enabled in your browser. (DeLandria Rising)
Aug 21 — 10:30 AM, French Historical Poetry (Kingdom of Florin) Fanny Burney presents.
Aug 21 — 12:00 Noon, Babble Bookers will discuss Down and Out in Paris and
Aug 28 — 9 AM, Bach to Tchaikiovsky, Masters of the Baroque to Classical Periods In Short Forms. Freda Frostbite, presenting. (Cookie II)
Dances
All Tuesdays in August — 1:00 PM Dances at RISA IV
All Thursdays in August — 1:00 PM Historically Themed Dance Parties (History Month Sim)
The Grand Ball
The Grand Ball will be held August 28 at 11:00 AM  at The Kingdom of Florin. Dress for any historical period, though the sim is 18th century France. The musical stream and dances will be appropriate to the period. We believe there will be historical costumes available on site that day for any who wish to dress for the occasion.