Welcome to the second issue of the Sign of the Kite (SOTK) newsletter. This is a new initiative FOR Kitely residents BY Kitely residents. No time to attend community meetings or read forums, blogs and social media? This is your concise weekly update on what's happening in Kitely and the wider OpenSim community. Read it on the forum, get it in notecard form via the inworld group Sign of the Kite or from the inworld vendor at the landing point on Micrographia.
Got news of your world or group, an event, a recruitment drive, a newsworthy shop, product or promotion? Drop a brief notecard on avatar Graham Mills_2 inworld or PM Graham Mills via the Forum. All that's needed are 2–5 sentences with a title, URL and/or hypergrid address. All times in PDT, please, and nothing A-rated/NSFW.
Copy deadlines are 17:00 Wednesday for inclusion in Friday's news.
Sign of the Kite is neither affiliated to nor sponsored by Kitely.
Kitely News
The upgrade to VarRegions has taken effect with surprisingly few issues given it replaces not one but two prior options. Some minor glitches affecting the map have been identified and will be fixed shortly.
More gnarly issues involve a new version of scripting command llCastRay (sometimes used in weapons) and loss of the hypergrid suitcase from inventory when jumping to a grid running an earlier version of OpenSim (sometimes rectified by clearing cache).
Problems with Firestorm chat command gth appear to be in the viewer's support for VarRegions so not Kitely's call. However, Oren suggested a workround: "Open the World Map. Just doing that, even once, fixes the viewer's understanding of the region, and from then on "gth" works correctly."
In other news the Market got some attention with regard to classification of skins and Maria Korolov kindly provided guidance on baking-on underwear (sounds painful?). HGBiz:
http://bit.ly/1mci49m

Sign of the Kite update
There has been much useful forum discussion on how to increase social cohesion in Kitely. As a first step we have established a social meetup group (Sign of the Kite Meetup Group) which you are invited to join if you want to chat to and meet in groups with other Kitely residents.
We also plan to arrange social events in addition to those already listed in the calendar (WIP, Seanchai, Metaverse Tours) and some ideas are listed below; others will emerge in the New Year.
Please share any ideas on the Kitely forum and support those events that are of interest to you.
Finally, the SOTK team wishes its readers (and everyone really) happy and peaceful holidays and a most excellent 2016. Stay tuned to the inworld groups and the forum for any announcements concerning meetups and, if you have one, send us your Kitely-related New Year's Resolution (and any other content) for the next issue. As Christmas and New Year both fall on days of publication, those issues are likely to be brief or non-existent. We'll see you with the next full issue on 8th January 2016!
Hot off the press I
Now's a good time to get the news out about your 2015 Kitely builds. If you're a fan of parallax scrolling, try Adobe Slate. It also includes a nifty glideshow feature that cross fades images as you scroll; great for comparisons or sequences. Free for the web and iPad with free hosting, it's Graham's "form over function" app of 2015. No export yet so it's a beautiful silo.
Hot off the press II
Want to make a movie from your snapshots? With Animoto just pick a theme and soundtrack, load your images, add titles and your 30 sec masterpiece of artful transitions compiles automagically. Free with premium options available.
URL: https://animoto.com/
What's a kMOOC?
Get together to learn stuff! Many universities now provide free Massively Open Online Courses or MOOCs but there is an issue, namely that online education can be isolating and so people dropout. Answer! Why not form a study group in Kitely (let's call it a kMOOC!). Meet on your own world or (don't tell Ilan) the Welcome Center. There are a few interesting courses upcoming or ongoing. New Year, New You?
Serene's picks…
Transmedia Storytelling
Something we are all trying to do in virtual worlds.
Mindfulness for Wellbeing and Peak Performance
Who doesn't need that?
URL:  http://bit.ly/1Cjaewh
Battle of Agincourt
For the History buffs amongst us
Why We Post: the Anthropology of Social Media
Virtual Worlds are a type of social media IMHO
My BA is in Anthropology, so I'm in
Graham's picks…
English Grammar and Essay Writing
Mainly for ESL students but nobody's perfect (this is Part 2)
The Science of Happiness
Covers positive psychology, including mindfulness if that's your thing
Climate Change
Because…
3D Graphics for Web Designers
A bit techie but might tie in with arrival of updated media-on-a-prim
And doubtless 100s more. Let us know if this interests you.
Seanchai Library: IT'S A WONDERFUL LIFE – presented in Voice at Falling Water
For almost seventy years, people the world over have fallen in love with Frank Capra's classic Christmas movie It's a Wonderful Life. But few of those fans know that Capra's film was based on a short story by author Philip Van Doren Stern, which came to Stern in a dream one night. That story will be presented on Saturday 19th December at 10 am! About 30 minutes long.
Saturday December 19th 10am PDT
hop://grid.kitely.com:8002//408/335/32
Work-in-Progress Meetup 14 Dec
The WIP meeting is a great opportunity to hangout with gifted creators, provide feedback and generally gawp in amazement. This week's meeting had Magic in spades with a subtext of combat games. Ace scripter Kayaker Magic showed off his zombie rezzer/shooter gizmo with one zombie NPC looking suspiciously like his avatar (and yes, they will pursue you)! Valerious Strongborn then demonstrated his awesome combat HUD with >100 animations as well as a PvP ranking system. Finally Tom Frost introduced his web-based events HYPEvents system that scrapes and collates events from many, many grids for your hypergrid enjoyment and edification.
That was the last WIP of 2015. More coming in the New Year thanks to Selby Evans, Ada Radius and this week's herder of cats (and zombies) Serene Jewell.
Kitely resident presents at ASCILITE2015
The proceedings of ASCILITE2015, a major Australian educational technology conference, includes a multi-author analysis of likely reasons for slow adoption of virtual worlds as well as an OpenSim-based occupational medicine simulation by Kitely resident Aaron Griffiths. Aaron is happy to talk about and demo the simulation so let us know if you are interested.
It's Christmas (again)!!
Chestnuts burning? Need to do something festive but fast? OpenSim fairy-godmother Linda Kellie has you covered with her winter-themed OAR file. Use Kitely Market to tweak the landscape and interiors, invite some friends and have a holly jolly time. NB M-rated so not for the kids without further editing.
See this week's Hypergrid Bucketlist region for further festive inspiration.
Seanchai Library: Works in Progress
Seanchai Library endeavors to provide fully immersive story environments as part of the storytelling experience.
We have numerous projects in progress and would like to share this with you in coming newsletters. Right now we are working on Celticworld to develop it further for our upcoming story themes of Irish and Celtic literature and stories in March.
Celticworld presently has a scale authentic reproduction of Stone Henge, a lake Crannog, Irish Cottage, St. Brendan's monument, and Blarney Castle is in the works. And many other cultural constructs and items are already there! We have just expanded Celticworld to four regions. We will continue building out and adding cultural items and information and a self-guiding tour. There are rowboats you can use to tour Celticworld.
hop://grid.kitely.com:8002/CELTICWORLD/197/79/32
My favourite world is… Stars Up There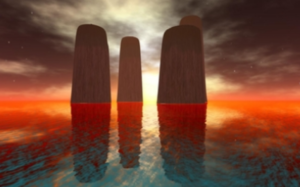 An intriguing and atmospheric creation by Francisco Rotunno. There's a lot more to see than the photo might suggest: make sure you explore the top of each monolith.
Have a favourite Kitely world or one you want to promote? Let us know and we'll include it here as part of a regular feature (Dot chose this one)
Hypergrid Bucketlist:  Snowind
Nani Ferguson and Ange Menges are going out with a bang!! They've created some of the most spectacular holiday themed regions on OpenSim but this is likely to be their last so get over there before 15 Jan 2016 or it's gone forever. There are exact copies on OSGrid and Metropolis. You can find tips for navigating and finding gifts on the video at
https://www.youtube.com/watch?v=SGuEILcq58k
OSGrid: hg.osgrid.org:80:snowind
Metropolis: hypergrid.org:8002:snowind
2016 in stories and games: Bold Street Timeslip Part 1
Bold Street was THE place to shop in Victorian Liverpool and it has a lot going for it now as a pleasant quarter of indie shops and cafes. Urban myth says, however, that it has a dark secret: a timeslip. This is the next best (or worst) thing to time travel so be careful you don't end up in this parallel universe of teeming Victorian melodrama. Bewildered daytrippers, whipsmart lady scientists, crazy American inventors, snarky street urchins, zillionaire ship owners, drunken sea captains and worse. Dastardly crimes, a supervillain in disguise and a race against time with nothing less than the Empire at stake. Yeah, I should write this…
Stories and games may well be a theme for 2016. Let us know if that interests you.
Learning to script
The scripting language used by OpenSim is called LSL and there is a great deal in common with the implementation in Second Life(TM). OpenSim, however, has some useful extensions (OSSL), including the ability to write to notecards and draw on prims.
Resources
Scripting (Acryline Erin; part of the recent OpenSim Scripting Trail)  hop://ever.unistra.fr:8002:scripting
Key info
Production team: Dot Matrix, Serene Jewell, Graham Mills_2
This week's editor: Graham Mills_2
Thanks to forum and community meetup participants for suggestions
Stay in touch with Kitely events and announcements.
On the Web
On the Hypergrid